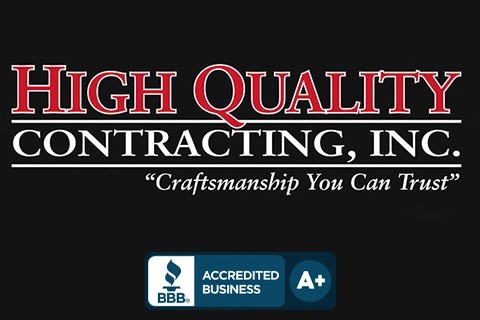 High Quality Contracting, Inc.
Company Description
Quality, Legacy, Craftsmanship, Trustworthiness
Custom Design & Custom Remodeling.
High-Quality Contracting, Inc. is licensed and insured general contractor with years of experience and quality craftsmanship that you can trust. We are an accredited member of the Wisconsin Better Business Bureau.

We are experts at everything from new construction to rebuilding damaged structures, such as co-ops, condos, lofts, and office build-outs. We can also help you with remodeling, renovation, restoration, and repairs.

We have a team of the finest craftsmen to get the job done right. We guarantee and stand behind the quality of our work. High-Quality Contracting, Inc. uses only the best products for each project. You can trust that when you put your home or business in our hands, you have hired the most dependable contractor in Wisconsin.
What makes High Quality Contracting different?

Our construction company relieves the burdens and pressures associated with new project development while you concentrate on your home or business. Our history of quality craftsmanship and dedication started in 1999; we have never let a client down. We treat your home/office with the care and respect that we would our own. Your project is in good hands with us.

High-Quality Contracting Inc. has been in business for many years. We do not use mediocre products and only work with the best construction crew available. We have chosen the most quality conscious tradesman in the industry. After all, you expect your home/building project to last for many years to come, so we put every effort to make that happen.

We are Better Business Bureau accredited with an A+ rating, and we take that honor seriously. The BBB sets the highest ethical standards for businesses, making our A+ rating a proud accomplishment. We believe in being an ethical business, which is why we choose to follow accreditation practices of the BBB.
Commitment
High-Quality Contracting Inc., is committed to quality craftsmanship, design, and development of new and existing home and commercial remodeling. We dedicate ourselves to the details that turn a good design into an amazing design. Our team is made up of fully trained experts who take job safety seriously. Come see why High-Quality Contracting, Inc. is a leader in the remodeling construction industry.
Categories
Carpentry & Millwork

Cabinets
Carpentry & Millwork
General Carpentry & Millwork

Doors, Windows, Glass & Mirrors

Doors
Glass Block
Shutters
Skylights
Windows

General Contractors

HVAC, Insulation & Moisture

Kitchen & Bath

Accessories
Appliances
Building Materials
Cabinets
Contractors
Countertop
Decorative Plumbing & Hardware
Designers
Faucets
Hardware
Lighting
Outdoor
Plumbing Fixtures
Speakers
Tile
Wall Accents

Lighting, Electrical

Electrical Contractors & Consultants
Electrical Service
Fixtures & Supplies
Generator Sales and Installation
Landscape Lighting
Lighting Control

Masonry, Concrete & Metalworks

Members

Paint & Stain

Exterior Paint & Stain
Faux Finishes
Interior Paint & Stain
Kitchen and Bath Specialty Paint
Murals
Paint
Paperhanging
Primer / Sealer
Project / Decorative Paint

Plumbing, Pools, Spas & Saunas

Roofing & Roof Specialists

Chimney Restoration
Commercial Roofing
General Roofing and Roof Specialists
Gutters
Rain Water Collection Systems
Reflective Coatings
Roof Repairs
Roofing Contractors

Site Works

Directional Drilling & Well Drilling
Excavating & Trucking
Foundation Waterproofing & Foundation Repair
Foundations
Grading
Land Clearing
Land Development
Land Planning
Remodeling
Rural Well Water Systems
Site Works

Structures

Surface Finishes

Asphalt / Blacktop
Bamboo / Cork Flooring
Carpet, Floor Covering
Ceramic, Porcelain, Mosaic and Natural Stone
Concrete
Countertops
Decorative & Stained Concrete, Concrete Coating
Drywall
General Surface Finishes
Granite, Limestone, Marble
Gypsum Underlayment's
Hardwood Floors
Plaster
Polished and Dyed Concrete
Tile
Wallpaper
To Top